Speciality Lubricant
×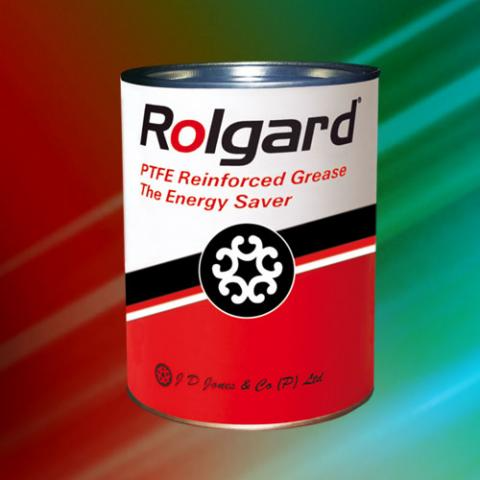 Rolgard® is a unique high-performance and high-temperature lithium based grease reinforced with PTFE. Rolgard® deposits a fine, tenacious, clinging film on the applied metal surface and the innumerable micro particles of PTFE act as tiny ball bearings that help minimise friction and temperature buildup.
The presence of PTFE in Rolgard® helps propagate smoother movement between movable and interfacing parts even at high speeds and temperatures.
Parameter
Specification
Result
Drop Point
ASTM D–566
256°C
Evaporation Loss
ASTM D–972
2.56%
Mean Hertz Load and Weld Load
FTM 6503.2
Mean Hertz Load—47 kg
Weld Load—224 kg
Oil Separation
FTM 321.2
2.176%
Penetration (Unworked)
ASTM D–217
274 (NLGI 2)
Penetration (Worked—60 Double Strokes)
ASTM D–217
284 (NLGI 2)
Penetration (Worked—1,00,000 Strokes)
ASTM D–217
311
Rust Preventive Property
ASTM D–1743
Pass Rating
Water Washout Characteristics
ASTM D–1264
2.86 %
Gear Wear Test
FTM 335
0.00058 gm/1,000 cycles
Wear, Steel on Steel (4 Ball)
ASTM D–2266
0.670 mm (Wear Scar Diameter)
Boiling Water Immersion
FTM 3463.1
No cloudiness and other evidence of emulsification
Copy of complete test report available upon request.
The grease is known to be mechanically and chemically stable, providing effective lubrication at temperatures upto 250°C
Excellent for all metal to metal lubrication
Chemically and mechanically stable. Does not soften or harden, unlike ordinary greases
Excellent thermal stability. Resists oil separation and does not migrate from hot surfaces
Withstands a wide temperature range, –5 to +250°C
Excellent shear stability. Remains where originally applied for extended periods
Reduces friction and wear
Cuts wasteful energy consumption
Controls heat build-up. Safeguards your precious equipment
Reduces noise and vibration, especially in large gears
Contains no chlorine which has been known to promote corrosion
Contains no silicone which has been known to cause migration problems
High di-electric strength
Offers greater malleability than graphite, MoS2 and other solid lubricants
Joints treated with Rolgard® are easily dismantled, even after years
Increases life of equipment
Minimises downtime and maintenance costs
ROLGARD - PTFE Reinforced Grease